Asake continues to be the hot new kid on the block and unlocks a new level as he joins American record label and distribution company, Empire. Read all about it below.
American record label and distribution company has officially welcomed Nigerian singer and rave of the moment, Asake to their company.
The singer who's a YBNL Nation signee was introduced as a part of the distribution company on their social media accounts on Instagram and Twitter on the 18th of July.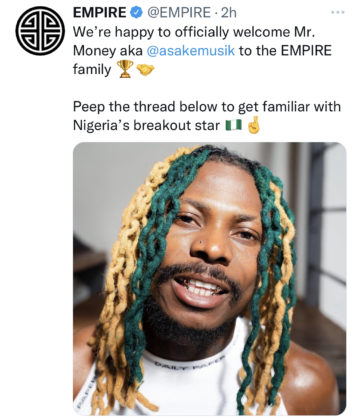 Asake, popularly known as Mr Money has been on roll since the start of the year when he released his debut EP, Ololade Asake and was unveiled as a YBNL signee. Since then the singer has topped charts with smash hit after hit from Sungba to the remix with Burna Boy, Omo Ope, Palazzo and the most recent, Peace Be Unto You.
Interestingly, YBNL Nation which is owned by rapper, Olamide Adedeji has secured a partnership deal with Empire Music since 2020. So far, details surrounding Asake's partnership with Empire remain unknown but it's clear that the singer is set to attain even greater heights with this additional pedestal.